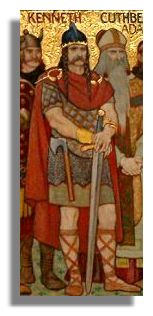 Welcome back to Celtophile Monday! All sources credited. Enjoy!

First King of Scotland's Palace
Archaeologists believe that they are close to discovering the site of a wooden castle belonging to Kenneth MacAlpine, who united the Picts and the Scots and effectively became the first king of Scotland in the 9th century. They have narrowed down the location in the Perthshire village of Forteviot. The palace is mentioned in medieval and later texts as being a stone building. But because it's early medieval, the researchers believe it would have been a wooden building. Archaeologists have already identified the entrance of an enclosure and a graveyard - which could have been the biggest in Scotland at that time. About 40 researchers and some local people plan to return to the dig later this year in the hope of pinpointing the royal palace. Kenneth MacAlpine died there in 858. He had been forced to move his power base from the west coast of Scotland due to pressure from marauding Vikings from Scandinavia.

Jacobite Ring Sells for £12,000
A ring which was used by Jacobite agents to identify themselves while carrying secret messages from Bonnie Prince Charlie has been sold at auction for £12,200. The ring is set with an emerald and had been given a pre-sale estimate of £3,000. The ring bore a concealed inscription "CRIII 1766" which proved the allegiance of its wearer to the Jacobite cause. Anyone caught with documents signed by the prince after his defeat at Culloden in 1746 faced execution, so proof of authenticity was provided instead by the ring. 1766 was the year that Prince Charles' father James died, leaving the Young Pretender to consider himself the rightful king.

Dates in Scottish History
February 25 1412 - Bishop Henry Wardlaw established St Andrews as a "university" although it was not officially inaugurated until 4 February 1414 when a Bull of Foundation was promulgated by Pope Benedict XIII.
February 26 1935 - Robert Watson Watt demonstrated radar for the first time.
February 26 1950 - Entertainer and song writer Sir Harry Lauder died.
February 27 1560 - Second Treaty of Berwick between England and Scotland, providing English assistance to remove French forces of Mary of Guise from Scotland.
February 28 1638 - Second National Covenant signed in Greyfriars Churchyard.
February 29 1528 - Patrick Hamilton, a Protestant martyr, was burned at the stake in St Andrews.
March 1 1682 - The Advocate's Library (known as the National Library of Scotland since 1925) opened by its founder, Sir George Mackenzie, the Lord Advocate.
March 1 1979 - Scots voted in favour of Devolution, but failed to reach the required 40% of the population in favour of implementing it - due to 36% of the electorate not voting.
March 2 1316 - King Robert II born in Paisley.
March 3 1792 - Robert Adam, architect, died.
March 3 1847 - Alexander Graham Bell born Edinburgh.
March 4 1756 - Sir Henry Raeburn, renowned for painting the portraits of many of the citizens of Edinburgh, born.
March 4 1890 - Forth Rail Bridge opened by Prince of Wales.
March 4 1936 - Jim Clark, Formula I World motor racing champion, born Fife.
March 5 1323 - King David II born.
March 5 1790 - Flora Macdonald, who helped to save Prince Charles Edward Stewart during his flight after the defeat at the Battle of Culloden, died in Kingsburgh, Skye (in the same bed in which Bonnie Prince Charlie had slept during his escape).
March 6 1457 - King James II decreed in an Act of Parliament that there should be regular target practice and military parades and that "football and golf be utterly cried down and not used". This was the first time that the games had been mentioned in Scottish documents.
March 7 1924 - Sculptor and artist Sir Eduardo Paolozzi born in Leith, the eldest son of Italian immigrants.
March 8 1859 - Kenneth Grahame, author of "The Wind in the Willows" born in Edinburgh.
March 8 1936 - The "Oor Wullie" cartoon strip first appeared in the "Sunday Post".

Black Watch Returning to New York
The National Theatre of Scotland production "Black Watch" has received critical and popular acclaim in many parts of the world where it has been performed. Now it is to return to New York from October to the end of November for 59 performances at St Ann's Warehouse where it ran last year to sell-out houses. It recently topped the year-end lists of theatre critics at six leading New York newspapers. The play is also to be taken to the Virginia Arts Festival in Norfolk, Virginia. The production is currently touring in Australasia and is scheduled for Toronto later this year. The play is based on interviews with former soldiers who served with the Black Watch in Iraq.

UK Slackling Masters Competition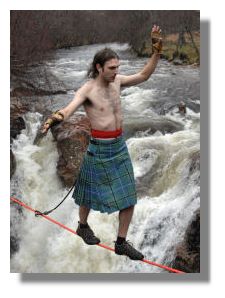 Slacklining is an exciting new sport where competitors traverse lengths of nylon between two points. The nylon, unlike a tightrope, is flat so competitors can walk on the surface and is secured loosely enough to allow them to bounce, twist and turn on the line, performing awesome tricks and stunts. Slackline distances can be as long as 500ft or as high as a staggering 5000ft - fortunately, competitors have a safety line connected to the tightrope, so they don't fall far. The UK Slacklining Masters Competition takes place at the Lochaber Leisure Centre, Fort William, on 23 February. The 10-metre slackline requires immense skill and concentration not just to stay on, but to do the best tricks too. Competitors are judged on who can walk the furthest in an allotted time and perform the best trick. The event is part of the Fort William Mountain Festival, which has been taking place from 15 to 23 February.
Photo of Jon Ritson slacklining by Iain Ferguson.

Wildcat Search
A survey has begun to find out how many of Scotland's most elusive predator - the wildcat - are still surviving in the Scottish Highlands. The last full survey in 1983/87 found that it was confined mainly to Perthshire, Angus, Grampian and the eastern Highlands, with a small population in Argyll and Lochaber. A recent, smaller study in 1995, estimated that there were only 3,500 of these animals in the whole area. The wildcat used to be widespread throughout Europe, Asia and Africa, but is now extinct in many of these areas due to loss of habitat and hybridisation with domestic cats that have escaped to the wild. They are mainly brown, with a black stripe along their back and black bands around the tail, neck and shoulders.

All the above are from RampantScotland.com.

Scottish Web Page of the Week
Scotland the Wild

Doubts Over Authenticity of Blarney Stone
Millions of tourists may have kissed the wrong Blarney Stone in an effort to get the gift of the gab, according to a new study. The authenticity of the Blarney Stone, kissed by about 400,000 tourists each year, has been questioned by Mark Samuel, an archaeologist and architectural historian, and Kate Hamlyn in a new book. According to legend, kissing the stone at Blarney Castle, Co Cork, endows the person with the gift of gab, but the authors say the present stone only came into use in 1888 for health and safety reasons. Up until then, visitors wishing to kiss the stone had to be dangled from the castle by two people holding their ankles. Read more

Welsh Woman Honored for Contribution to RAF in WWII
A woman pilot who was among those who flew replacement fighters to RAF bases during World War II has spoken of her joy at the recognition for her work.
Margaret Frost, 87, is one of 15 women and 100 men who are to have a special merit award for serving in the Air Transport Auxiliary (ATA). The parson's daughter from Bwlchllan, near Lampeter, west Wales, flew Spitfires, Hurricanes, Mustangs. She said: "We just went wherever we were needed to go." Read more

.