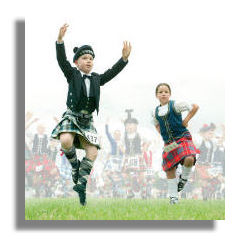 Snippets of Scottish news, oddities, history, and nonsense from 'round the Web. Enjoy! (Please ignore the Read More link at the very bottom - it doesn't work and I don't know how to fix it.) :/

Health Benefits of Porridge
Our ancestors ate porridge because oats grew well in the land and climate we have in Scotland - and there wasn't much else around. These days, more and more people are eating porridge, believing that it has nutritional and health-giving properties. Now the UK's Advertising Standards Authority (ASA) has endorsed that humble bowl of porridge. Read More

Monarch of the Glen
With some plots available for as little as £30, thousands of people are going online for the chance to snap up their own little pieces of Scotland - and with it the right to call themselves lords, lairds and ladies. Read more

400-Year-Old Scots Ready to Reveal Their Battle Secrets
A MASS grave of soldiers, including Scots, slaughtered during Europe's bloody Thirty Years War is yielding up valuable information on how they had lived. Read more

Gretna Retains "Wedding Capital" Title

Figures published by the Registrar General show that 15% of all weddings in Scotland last year were performed in the village of Gretna, just inside Scotland and a few miles from the English border. A total of 4,434 weddings were registered in the Dumfries and Galloway town over the 12-month period. Of all the ceremonies performed there, 86% did not involve a resident of Scotland - it's the romantic couples from around the world (and from England) who still flock to Gretna. Read More

36th World Flounder Tramping Competition
The small fishing village of Palnackie (in what was once Kirkcudbrightshire, but is now part of Dumfries and Galloway) is hosting one of the lesser known "world championships" this Saturday, as hundreds of competitors roll up their trousers and paddle through the mud of Urr Water estuary in an effort to catch a slippery flat flounder by standing on it. Read More

Rabbie's Hip Flask Auction
An 18th century hip flask, which once belonged to poet Robert Burns, is to be auctioned in Edinburgh later this month. No doubt it was well used when it was owned by Scotland's hard drinking national poet. Read More

2008 World Highland Games to be held in West Virginia
Bridgeport, West Virginia will be the site of the 2008 Scottish Heavy Athletics World Highland Games Championship. Read More

This Week in Scottish History
August 12 1922 - Popular character actor Fulton McKay was born in Paisley.
August 13 1826 - Explorer Alexander Gordon Laing became the first Christian to reach Timbuctu, Africa.
August 13 1888 - Birth of John Logie Baird, developer of television.
August 13 1957 - Scotland's first nuclear power station at Dounreay went "critical" ushering in the generation of power from atomic reactions.
August 14 1040 - King Duncan I killed in battle at Pitgavney by Macbeth.
August 14 1337 - King Robert III born at Scone.
August 14 1390 - King Robert III crowned at the Augustinian abbey of Scone.
August 14 1964 - University of Strathclyde was constituted in Glasgow, based on the Royal College of Science and Technology.
August 15 1057 - Macbeth killed in battle by Malcolm at Lumphanan.
August 15 1771 - Novelist and poet Sir Walter Scott born.
August 15 1840 - Foundation stone for the Monument to Sir Walter Scott laid in Princes Street Gardens.
August 16 1766 - Birth of Carolina Oliphant (Lady Nairne), poet and author of many Jacobite songs, including "Charlie is my Darling". Her songs are second only in popularity to Burns.
August 17 1472 - The see of St Andrews became an archbishopric by a bull of Pope Sixtius IV.
August 17 1822 - Visit of George IV to Edinburgh began, orchestrated by Sir Walter Scott.
August 17 1947 - First Edinburgh International Festival opened.
August 18 1966 - Tay Road Bridge opened.

Castle of the Week
Castle Stalker. Monty Python, anyone??

Scottish Blog of the Week
Flickr-Scotland. A photo blog of the best photos of Scotland gleaned from Flickr.com. There are a ton of a-mazing photos here!!