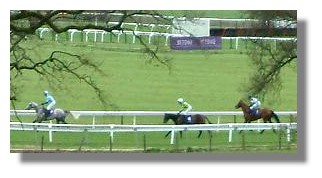 Welcome back to Scotophile Monday! All sources credited. Enjoy!

100 Years of Horse Racing
Perth racecourse at Scone Palace Park was this week celebrating 100 years of the "sport of kings" there. There was a race meeting on Thursday and there was a celebratory dinner in the Nelson Stand earlier in the week, attended by distinguished guests, jockeys, trainers and racing professionals who have been involved with racing at Perth. There was also a display of the history of racing at Perth over the last 100 years, including many images from the early years, in a marquee close to the racecourse entrance. The area has a long history of racing, with the first recorded race in Perth taking place in 1613, when a silver bell was run for on the South Inch in Perth itself. In 1745, Bonnie Prince Charlie's supporters allegedly used the races as cover for a meeting to finalise plans for the Jacobite rising.

Harnessing the Power of Tides and Waves
First Minister Alex Salmond was in Orkney this week to open a new testing facility at the European Marine Energy Centre. The centre offers developers the opportunity to test prototype devices in wave and tidal conditions and is believed to be the first of its kind in the world to provide purpose-built testing facilities. The aim is to make Scotland a world leader in such technology.

Makeover for "Forgotten Towns"
The seaside towns of Argyll used to be a popular tourist destination for many who lived in central Scotland. With the rise in foreign package holidays, the glamour days of places such as Dunoon (pictured here), Helensburgh, Campbeltown, Oban and Rothesay declined and they became a forgotten backwater. They were visited by day trippers, many of them the older generation who had fond memories of their former glory. Now Argyll and Bute Council is to spend £90 million to breathe new life into the resorts.

Sabbath Sailings to Lewis?
Responding to a campaign by some local residents, ferry operator Caledonian MacBrayne (CalMac) has confirmed that it is looking - again - at sailing to the Western Isle of Lewis on Sundays. The move has been resisted in the past by local churches and those who want to preserve the local way of life. But many residents these days would rather have the option of being able to travel to and from Lewis seven days a week.

Salmon Leap
Official government statistics on the number of salmon caught in Scotland's rivers last year show that numbers are continuing to improve, with some waters having the highest catches on record. Nearly 86,000 salmon were caught by anglers during last year - the fifth highest since records began. Just over half of the fish were released back into the river, so some may have showed up in the figures more than once. But anglers were disappointed by the low numbers of sea trout being caught. Only 20,675 were recorded - the second lowest on record.

QE2 Photo Archives Online
The University of Glasgow has launched an online exhibition to mark the 40th anniversary of the launch of the QE2. It includes over 70 previously unpublished photos showing every stage of the liner's construction as well as the finished interiors of the luxury cruise ship. The exhibition went online to coincide with the launch of the QE2 on September 20, 1967 at John Brown's shipyard at Clydebank. Since then, more than two million passengers have sailed on her. See hwww.gla.ac.uk/qe2.

This Week in Scottish History
September 30 1928 - Announcement of the discovery of penicillin by Ayrshire-born Sir Alexander Fleming.
October 1/5 1263 - Battle of Largs - Scots defeated the Vikings who were attempting to invade.
October 1 1763 - Contract to construct the North Bridge, Edinburgh, signed.
October 2 1852 - Birth of Sir William Ramsay, Scottish chemist who discovered helium, xenon, neon, argon, radon and krypton.
October 2 1931 - Death of Sir Thomas Lipton, grocer, tea merchant and contestant for the "Americas Cup".
October 2 1947 - The new paddle steamer Waverley was launched from A. & J. Inglis's yard on the Clyde. After providing services on the Firth of Clyde she has been preserved and still takes passengers "doon the watter" as the oldest sea-going paddle steamer in the world.
October 3 1357 - Treaty of Berwick, freeing David II from imprisonment by the English.
October 3 1706 - Last Scottish Parliament in Edinburgh before the Union with Westminster.
October 4 1883 - Boys' Brigade founded in Glasgow.
October 5 1785 - Balloon flight by Italian aeronaut Vincenzo Lunardi from Heriot's School, Edinburgh to Ceres in Fife.

Poetry Corner

Consolation

Though he that ever kind and true
Kept stoutly step by step with you
Your whole long gusty lifetime through,
Be gone awhile before,
Be now a moment gone before,
Yet, doubt not, soon the seasons shall restore
Your friend to you.

He has but turned a corner. Still
He pushes on with right good will,
Through mire and marsh, by heugh and hill,
That self-same arduous way,
That self-same upland, hopeful way
That you and he through many a doubtful day
Attempted still.

He is not dead, this friend - not dead,
But in the path we mortals tread
Got some few trifling steps ahead
And nearer to the end;
So that you too, once past the bend,
Shall meet again, as face to face, this friend
You fancy dead.

Push gaily on, strong heart! The while
You travel forward mile by mile,
He loiters with a backward smile
Till you can overtake,
And strains his eyes to search his wake,
Or whistling, as he sees you through the brake,
Waits on a stile.

--Robert Louis Stevenson

Meaning of unusual words:
heugh = cliff
brake = thicket

Above is snipped from Rampant Scotland.

Potter Book Sales Raises Thousands
A rare set of Harry Potter books which were kept under lock and key in a police station have sold for almost £20,000 in an internet auction.
The books were signed by the author JK Rowling and are so valuable that they are being kept in an Aberdeenshire police HQ. They have been auctioned off on eBay in aid of local charity Books Abroad which supplies books to children worldwide. Bidding ended at midnight on Saturday and the books were sold for £18,200.

Radio Scotland
Radio Scotland
Scotland Gaelic Radio

Scotland on Film
Experience 20th century Scottish life in sound and vision, with our evocative collection of clips from Scotland's historic film, television and radio archives.

Scotland's Greatest Inventors
WHO is Scotland's greatest inventor? That is the question posed by The Scotsman all this week as we profile the pioneers who have helped shape the modern world.

Scotland Outdoors Podcast
A guide to outdoor events and activities in Scotland. Weekly fifteen minute updates featuring Out of Doors, Grassroots and Landward content.

Scotland During World War II
Student and teacher resource.