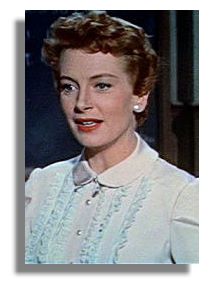 Welcome back to Scotophile Monday! I'm ramping up for the release of my next novella from Samhain Publishing, plus riding herd on the fabulousy talented authors of the Beyond the Veil blog for our Halloween round robin story, so I apologize if this week's is a bit truncated. All sources credited. Enjoy!
From Here to Eternity
Deborah Kerr (she pronounced it kar) the Hollywood actress who was born in Helensburgh in 1921, died this week in England, aged 86. She originally trained as ballet dancer before appearing in several British films. She signed for MGM in 1947. Despite her Scottish roots, she became known as Hollywood's quintessential English rose. But it was her role as Karen in "From Here to Eternity in 1953 that propelled her to box office fame. She then had a wide range of screen personas including a nun (Heaven Knows, Mr. Allison), an earthy shepherd's wife (The Sundowners) and a governess (The King and I). She was nominated for an Oscar on six occasions and was given an honorary award by the academy in 1994.
Excuuuuse me

??
Sir Menzies Campbell, the leader of the Liberal Democrat party in the UK resigned from the post this week, in the wake of corrosive media speculation and comment about his leadership and being "too old" at 66 to lead a major political party at the next general election, perhaps two years from now. The Member of Parliament for North-East Fife decided that it was in the interests of the LibDem Party to step down. His supporters said that he "was an honourable man doing the honourable thing." Sir Menzies (he used the traditional "Mingis" pronunciation for his name) had led the party for eighteen months and had a distinguished career first as an athlete, competing in the 1964 Olympics, then as a lawyer, becoming a Queen's Counsel in 1982. He was elected as Member of Parliament in 1987 and was respected for his insight on foreign affairs. He became leader of the LibDems in March 2006 - facing much younger men as leaders of the other main parties in UK politics. He argued that his age gave him experience and wisdom, but in the TV age of sound bites, he was accused of "lacking energy".
Donation to Study Scots Around the World
Alan and Anne McFarlane's gift of £1 million to the Scottish Centre for Diaspora Studies is believed to be the largest-ever private donation to a history project at a British university. Mr McFarlane, who studied history at Edinburgh, is a leading international financier based in the city. The Scottish Centre for Diaspora Studies is due to open next year under the auspices of the School of History, Classics and Archaeology at Edinburgh. It will be headed by the renowned Scottish historian Professor Tom Devine. The focus of the centre's work will be on examining how Scots shaped societies, economies and culture in countries around the world, particularly in North America, Australia and New Zealand.
North American Tourist Numbers Fall
Figures published this week show that there was a drop of 12% in the number of visitors to Scotland from the US and Canada in the first six months of this year. In the same period, the number of international travellers rose by 4%, with a 12% increase in the number of Europeans coming to Scotland in the first half of this year. 819,000 travellers came to Scotland from Europe during that time frame and 237,000 from North America. The weak US dollar and security concerns seems to have discouraged travel from there. 80% of Scotland's visitors still come from other parts of the UK, however.
Scottish Breweries Under Threat
Brewing giant Scottish & Newcastle (S&N) were facing a takeover battle as continental rivals Carlsberg and Heineken admitted that they were considering a joint bid for the company. Their plan would be for Danish firm Carlsberg to buy Edinburgh-based S&N's interests in France, Greece and eastern European drinks business BBH, while Heineken would take on the UK business and other European operations. S&N's shares jumped 15% following the news, with their stock value jumping to £7.1 billion. S&N, however, are getting ready to fight back, pointing out that they are now Scotland's biggest manufacturing company and that any takeover would inevitably mean the loss of the corporate HQ and many high-level jobs. S&N owns or co-owns three of the top ten beers in Europe - Baltika, Foster's and Kronenbourg 1664.
Stevenson Model Lighthouse
The original scale model of the Bell Rock lighthouse which was created by engineer Robert Stevenson, is being sold at auction in London. Every lighthouse across the world that sits in the sea today has been built to Robert Stevenson's design and specification. Bell Rock is the highest point of a dangerous reef which lies 11 miles off the coast of Angus. By the end of the 18th century, around six ships a year were being wrecked each winter on its rocks and Stevenson was given the task of erecting a lighthouse. Work began in 1807, but as the rock was only exposed for three hours a day at low water spring tides, it was not completed until 1811. The structure was made of interlocking blocks which were carved on the mainland and reassembled on the site. It remains the oldest rock lighthouse in existence in the British Isles today. Robert Stevenson went on to design a further 17 Scottish lighthouses before retiring in 1843. The tower of Robert Stevenson's presentation scale model has been carved from a solid piece of red sandstone cut from the Bell Rock and is over 22 inches tall. It is expected to fetch between £1500 to £2000. Angus Council has refused to deny or confirm that it is going to bid for the model, which could be displayed at Arbroath's Signal Tower Museum. (Carolan's book recommendation:
The Lighthouse Stevensons
This Week In Scottish History
October 21 1956 - Last tram car ran in Dundee.
October 21 1983 - The Queen officially opened the Burrell Collection in Glasgow's Pollok Country Park. The museum's collection had been donated to the city nearly 40 years earlier by the shipping magnate Sir William Burrell.
October 22 1861 - Foundation stones of main Post Office and National Museum of Scotland laid by Prince Albert in his last public engagement before his death.
October 23 1295 - Treaty between King John Balliol of Scotland and King Philippe IV of France which promised mutual help against the English - the start of the "Auld Alliance".
October 23 1921 - Death of John Boyd Dunlop who re-invented the pneumatic tyre from the design of Robert W Thomson.
October 24 1796 - Artist David Roberts born in Edinburgh.
October 25 1960 - Elvis Presley touched down at Prestwick airport, his only visit to Scotland.
October 26 1760 - George III crowned, beginning a 60 year reign, one of the longest in British history.
October 26 1845 - Lady Caroline Nairne, songwriter and poet, died at Gask, Perthshire.
October 26 1911 - Poet Sorley MacLean born on the island of Raasay.
October 27 1728 - James Cook, circum-navigator of the globe, born to Scottish parents in Yorkshire.
October 27 1854 - William Smith, founder of the Boys' Brigade, born.
All of the above are from the RampantScotland.com newletter.
Don't forget to visit the
Beyond The Veil
blog frequently to check for the next installment of "Dunvegas 2007"!