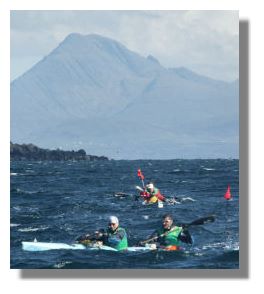 Adventure Racers Insured Against "Nessie Attack"
The 196 competitors in the recent Adventure Racing World Championship had been insured against attack from the Loch Ness Monster (known locally as "Nessie") as they swam and kayaked across the UK's most voluminous area of freshwater. Read more

John Paul Jones - Bonne Homme or Pirate?
He may have been Scots-born but, as a firebrand captain in America's emergent navy, Jones had no compunction in harrying his homeland as part of the colony's revolutionary war against Britain. Read more

Delight at Foals' Births
THREE rare foals belonging to the globe's last truly wild species of horse have been born at the Highland Wildlife Park. Read more

The Sporran: Definitively Scottish
The sporran, or sporan in Gaelic, has come a long way from a doeskin bag containing ammunition or daily rations. Read more

Scots Beaches Win Environmental Award
Seven beaches and one marina achieved "Blue Flag" status which is recognised worldwide for locations that meet tough standards of cleanliness, environmental management and provision of information. Read more

Coastal Erosion May Wash Away Key Sites
Thousands of archaeological sites around the Scottish mainland and the Northern Isles are at risk of being washed away by the sea, according to experts. Read more

Scottish Castles Photo Library
Click on the links below to access good size photos of around 100 Scottish castles. You can access them individually - or take a tour, as each page is linked to the next. Read more

This Week in Scottish History
June 3 1726 - James Hutton, founder of modern geology, born.
June 3 1774 - Poet Robert Tannahill born in Paisley.
June 3 1931 - The company formed by John Logie Baird televised the Epsom Derby which was then transmitted by the BBC.
June 4 1818 - First recorded inter-club golf match - between Edinburgh Burgess Golfing Society and Bruntsfield Links Golf Club.
June 4 1977 - Damage estimated to cost £15,000 caused by fans who dug up the pitch at Wembley after Scotland defeated England 2-1.
June 5 1592 - An Act of the Scottish Parliament came into force "concerning the Office of Lyoun King of Armes and his brether Heraldis" creating the best regulated system of armorial bearings in Europe.
June 5 1723 - Adam Smith, author of "The Wealth of Nations" born Kirkcaldy.
June 5 1975 - Referendum held on British Membership of the European Community. In Scotland the vote was "Yes" 1,332,286; "No" 948,039. Turnout was 61%. Only Shetland and Western Isles had majorities against.
June 6 1838 - Thomas Blake Glover, founding father of Japan's industrialisation (including Mitsubishi) and Japanese Navy, born Fraserburgh.
June 7 1329 - Robert the Bruce died, Cardross Castle.
June 7 1811 - Sir James Young Simpson, pioneer of anaesthetics and chloroform, born.
June 8 1772 - Robert Stevenson, engineer, who constructed 18 lighthouses around Scotland, born Glasgow.
June 9 597 - St Columba died.
June 9 1942 - First US troops (over 10,000 men) disembark from Queen Mary on the River Clyde.

Humor – A True Scot
They say that a "True Scot" in North America is one whose ancestors came from Scotland - but who were born in North America to save the fare...