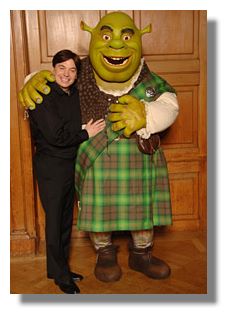 Welcome back to Scotophile Monday! Here's where I glean interesting bits from Scottish newspapers and web sites from around the world. All sources are credited.
Enjoy!
Tartan for Scottish Film Star
The Borders knitwear company of Lochcarron has produced a new specially-designed tartan for a Scottish film star. No, not Sean Connery - Shrek, the cinematic ogre with a Scottish accent (well, nearly Scottish...) The tourism agency VisitScotland came up with the idea in advance of the release of Shrek the Third. The tartan is described as "muted browns and acid greens" and is aimed at encouraging people to trace their own Scottish roots. Shrek, presumably has done so and may be a member of the clan Nessie? Being of somewhat ample girth, they needed 10 metres of cloth to make Shrek's kilt, which he wore for advance publicity shots prior to the launch of the movie.
Read more
Heart Transplant Patient Bags All 284 Munros
Murray Elder had a life expectancy of only days when he underwent a heart transplant operation 18 years ago. Since then, he has continued to climb all 284 "Munros" - the mountains in Scotland with peaks above 3,000 feet. He climbed the last of them last Saturday - accompanied by some friends and also the surgeon who performed the life-saving operation.
Read more
Tycoon's Legal Win Bars Ramblers from Her Land
Ann Gloag, a multi-millionaire tycoon, has won a court case giving her the right to post "keep out signs on a large area around her home at Kinfauns Castle. This goes against the time-honored "right to roam" tradition, which gives the public the right to roam around freely in Scotland's great outdoors. Gloag is now allowed to build a 7-foot high fence around a 12-acre enclosure, claiming that because of her wealth, high public profile and prominence of her guests, she was entitled to a higher degree of protection. The Ramblers Association is convinced that the sheriff's judgement is in error and is considering an appeal.
Read more
Scunnered with Microsoft's Office 2007
Those who use the English/English dictionary (as distinct from the US/English version) in Microsoft products have to teach it to speak Scots by adding common words to its dictionary of acceptable words on our own PCs. This can be a time consuming process, particularly if a lot of Scots dialect words are used. Now Microsoft has announced that the latest British version of their Office 2007 software will have Scots words included in its dialect dictionary. The software giant has invited users to submit their favourite Scots words and already thousands of words have been sent in. The most-nominated word so far is "scunnered" followed by old favourites such as "dreich" and "wean".
Read more
A new biomass power station, nearing completion near Lockerbie in Dumfries and Galloway, has sparked a wave of planting of willow on farms across southern Scotland. The plant will require 220,000 tonnes of fuel a year and it is hoped that local willow can provide 45,000 tonnes of that. Willow provides a similar amount of energy per ton as other hardwoods, but can be cultivated every few years at relatively low cost.
Read more
Relax - it's only Scotland.com that's up for auction in New York.
Read more
Black Watch Play Marks Opening of Parliament
"Black Watch", one of the greatest successes in Scottish theatrical history, is to play an unprecedented role in the reopening of Scottish Parliament.
Read more
Web Site on Scottish Highland History
Explore Am Baile, The Highland Council'sbilingual website, and discover the history and culture of the Scottish Highlands and Islands.
Click here
This Week in Scottish History
June 17 1390 - Wolf of Badenoch burns Elgin Cathedral.
June 17 1823 - Charles Macintosh patented the waterproof cloth he was using to make raincoats.
June 18 1639 - Pacification of Berwick, Charles I forced to withdraw from Scotland and recognise an independent Scottish Parliament.
June 18 1746 - Flora MacDonald met Prince Charles Edward Stuart and persuaded him to wear women's clothes as part of the escape plan from the Outer Hebrides to Skye.
June 19 1566 - Mary Queen of Scots gives birth to the future King James VI of Scotland and I of England.
June 19 1633 - Coronation of King Charles I at Holyrood.
June 19 1660 - "Day of Public Thanksgiving" on Restoration of Charles II as king.
June 19 1861 - Earl Haig, Commander in Chief of British forces 1915-18, founder of British Legion, born.
June 19 1937 - Sir J M Barrie, author of "Peter Pan" died.
June 20 1723 - Adam Ferguson, philosopher, historian, "Father of Sociology" born Logierait, Perthshire.
June 20 1887 - New Tay rail bridge opened, the longest in Britain.
June 20 1969 - First announcement of the discovery of high-grade crude oil in the North Sea.
June 21 1791 - Robert Napier, regarded as the "father of Clyde shipbuilding" was born. He died on 23 June, 1876.
June 21 1796 - Scottish explorer Mungo Park reached the source of the river Niger in Africa.
June 22 1725 - Malt Riots, Glasgow - against higher taxes imposed on Scottish malt.
June 23 1650 - Charles II sailed into the estuary of the river Spey and signed the Covenant before going ashore.
June 23 1927 - Singer Kenneth McKellar born.
"Don't worry about what people think - they don't do it very often."