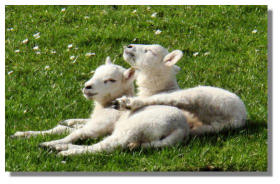 Welcome back to Celtophile Monday! All sources credited. Enjoy!

Environment/Wildlife

Scotland Wind Farm Rejected
The proposed wind farm on Lewis in the Western Isles would have been one of Europe's largest, with 234 giant turbines. The local authority and businesses in the Western Isles were very much in favour of the plan, but it also attracted 11,000 objections, with 84% from islanders. Because of its scale, the Scottish Government had to make the final decision and they have now rejected it because it did not comply with European law protecting sensitive environments. It would have had a serious impact on the Lewis Peatlands Special Protection Area, which is designated under the European Commission (EC) Birds Directive and protected under the EC Habitats Directive. Supporters said it was a lost opportunity to advance Scotland's renewables industry and the fragile economy of the Western Isles. The Government insisted that the rejection of the Lewis development would not mean Scotland failing to meet its renewable targets of generating 50% of Scotland's electricity demand from renewables by 2020. Currently, 454 wind turbines are operating in Scotland, with a further 203 approved. They are now becoming intrusive on many Scottish skylines and applications have been received for 1,700 others in 28 locations, including another two in the Western Isles. But many are snarled up in lengthy planning processes - the Lewis project was first put forward in 2004. Source: RampantScotland.com

Islanders Support Wave Power
Just days after the rejection of the wind farm on Lewis in the Western Isles, a planning application was lodged for a major new wave power station on the west of the island. Despite being sited close to communities that would have been nearest to the rejected wind farm, local residents are said to be backing the latest development. The scheme would harness power from the Atlantic waves in Siardar Bay, to generate up to four megawatts of electricity. It will involve putting a causeway out about 200 metres, and building a breakwater with 36 to 40 turbines. The breakwater will also help boats entering the sea at Siardar Bay. Source: RampantScotland.com

New Exhibit at Edinburgh Zoo
Edinburgh Zoo opened the largest chimpanzee enclosure in the world on Friday. The £5.65 million "Budongo Trail" is the first part of a £77.8 million investment to create enclosures that simulate more closely the natural environment for a number of species. The chimps enclosure has the world's largest man-made climbing frame for the apes. The enclosure has landscaped gardens with exotic vegetation similar to that found on a forest floor. The new enclosure can house up to 40 chimpanzees and will be a major new attraction for the Zoo's 650,000 visitors each year. Source: RampantScotland.com

New Farming Methods Put Ireland's Birds in Peril
The Republic of Ireland's Heritage Council has warned that many of the country's birds are under threat because of trends in agriculture. The corncrake, lapwing, barn owl, cuckoo and chough are all on the danger list, according to the official body that monitors the health of Ireland's wildlife.

In all, 29 species of birds and 120 flowering plants are in serious decline because of the introduction of more intensive farming methods that damage their habitat. Other wildlife, such as the marsh fritillary butterfly, is also under threat. Read more by David McKittrick

Web Sites
Irish Green TV
North Wales Wildlife Trust

Arts/Culture

Queen Mother Gates Unveiled at Glamis
Prince Charles has unveiled a set of new gates at Glamis castle which have been built in memory of his grandmother, the late Queen Mother. Glamis has royal links going back to 1372 and the castle was the her childhood home when she was Elizabeth Bowes-Lyon, daughter of the Earl of Strathmore and Kinghorne. Donations from home and abroad contributed to the cost of the new gates, which were built and designed locally. The gates are at a new entrance which reinstates the original avenue between the castle and the village and helps the flow of the growing number of visitors to Glamis Castle and the surrounding gardens and estate. Source: RampantScotland.com

Excuuuuse Me?
An international competition run by Whisky Magazine surprised many in the Scottish distilling industry when it voted two Japanese whiskies as the best in the world. Yochi is the first variety outside of Scotland to win the single malt award. Distilled near the city of Sapporo on the island of Hokkaido, it beat dozens of other varieties, including last year's winner, Talisker 18 years old, produced on the Isle of Skye. And Suntory Hibiki scooped the prize for the world's best blended whisky according to the poll in Whisky Magazine.

That shock result in the whisky tasting competition hasn't had any impact on overall whisky sales by the Scottish distilling industry. Indeed, the value of export sales reached record levels last year, reaching £2.8 billion, earning £90 every second for the UK balance of trade. The Scottish Whisky Association has also reported that export volume was also up, to the equivalent of 1,135 million bottles. Exports to the European Union went up in value by 27% with Spain and France in second and third place in the league table of export countries - the USA remains substantially out in front. Following recent changes in duty imposed in India, whisky exports to there soared 36% last year. Source: RampantScotland.com

Protecting Scotland's Battlefields
Historic Scotland, an agency of the Scottish Government, has launched a consultation document aimed at protecting the country's many battlefields, initially by creating an inventory. In some cases, of course, it is too late for any protection measures while for others, even such pivotal conflicts as Bannockburn, the precise location is a matter of debate. The consultation document says that to be included in the "Inventory of Battlefields" the location of the conflict must be mapped and identified. Over the next three months the public will be asked to comment on how best to protect battlefield sites. A final paper will then be prepared by Historic Scotland for consideration by ministers. Currently there is no specific legislation to protect battlefields in Scotland. That has meant that many have been built over by urban developments. Source: RampantScotland.com

Stalemate for Lewis Chessmen
Attempts to persuade the British Museum to return the historic Viking chess set, found in a sand dune on the Isle of Lewis in 1831, have been rejected by the director of the London collection. There are currently 82 figures in the British Museum and 11 in the Scottish National Museum in Edinburgh. The British Museum claims that when they were found, the Scots involved at that time tried to sell them and the British Museum bought them as a collector of last resort to keep them together. They therefore don't feel under any pressure to return their chessmen to Scotland. Source: RampantScotland.com

Dates in Scottish History
May 4 1645 - Marquis of Montrose victorious at Battle of Auldearn.
May 5 1646 - King Charles I surrenders to Lord Leven and was later passed to the Parliamentary forces.
May 6 1941 - Last major bombing attack on the Clyde area by the Luftwaffe; Greenock was badly hit with 280 dead.
May 6 1959 - Icelandic gunboats fired live rounds at British fishing trawlers, many of them from Scottish ports, during the "Cod War" over fishing rights.
May 7 1890 - James Naysmith, engineer and inventor of steam hammer, died
May 8 1701 - Scottish-born pirate "Captain" William Kidd tried for piracy at London's Old Bailey. He was hanged on 23 May.
May 9 1860 - J M Barrie, author of "Peter Pan" born
May 10 1810 - Rev Henry Duncan opened the world's first savings bank in Ruthwell, near Dumfries.
May 12 1725 - The Black Watch regiment was commissioned under General Wade to police the Highlands.
May 13 1568 - Mary, Queen of Scots, defeated at Battle of Langside.
May 14 1754 - St Andrews Society of Golfers constituted. In 1834 it became the Royal and Ancient Golf Club.
May 15 1567 - Mary, Queen of Scots, married Earl of Bothwell - at 4am.
May 16 1763 - Biographer James Boswell met Samuel Johnson for the first time.
May 16 1791 - James Boswell's "Life of Johnson" published.
May 17 1532 - King James V established paid judges to sit as the Court of Session, the highest civil court in Scotland.

Web Sites
The latest edition of The Bottle Imp.
Celtic Heartbeat - Wales
Celtic Art & Cultures

Sport

Scotland vs. USA Polo Match
USA will take on Scotland on Saturday, June 21st in the Newport International Polo Series. Scotland has a 3-1 record against the USA in this international series and are cheered on by a loyal band of supporters wearing kilts and waving the Saltire national flag. The Polo Series takes place on the polo grounds of historic Glen Farm, 715 East Main Road (also called Route 138) in Portsmouth , RI. Source: RampantScotland.com

Edinboro...PA
Edinboro University of Pennsylvania in the US was not only founded by Scots and named after Edinburgh, but they also hold an annual Highland Games. This year's games will take place May 16-18 both on campus and throughout the town. This year's musical guests include the Chelsea House Orchestra, Melinda Crawford (a former National Scottish Fiddle Champion), Maidens IV, and Bare Bones. There's also Highland dancing, piping competitions, a kilted mile run, heavy athletics, clan gatherings, sheep to shawl weaving, archery - and a fire eater. For more information, see: Edinboro Highland Games.

.