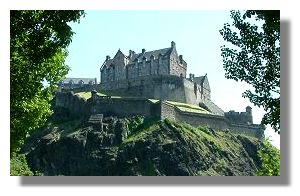 Welcome back to Celtophile Monday, a hodgepodge of news and tidbits gleaned from the web. All sources credited. Enjoy!

Scotland's Top Ten Visitor Attractions
Figures published by the tourism agency VisitScotland show that the number of visitors to Scotland's tourist attractions grew by 1.7% last year, reaching 45.7 million. The most popular paid-for attraction was once again Edinburgh Castle (with 1,200,000), with Glasgow's Kelvingrove Art Gallery and Museum heading the table of free attractions, with 2.2 million visitors. Glasgow Science Centre did well, with an increase in visitor numbers of 17% but the Scottish Sea Bird Centre in North Berwick had the biggest rise in visitors, with 26% more than the year before, rising from 225,500 customers to 284,702. There were also increased visitor numbers at the Falkirk Wheel, St Giles Cathedral in Edinburgh and the Shetland Museum and Archive. But the People's Palace museum in Glasgow saw its numbers dip by 18.4% - the largest decrease in the country. The VisitScotland figures show that English tourists account for the highest proportion of visitors to Scotland's attractions.
Source: rampantscotland.com

Scots Win Inventor of the Year Title
Three Scotsmen have won the title "European Inventor of the Year" awarded jointly by the European Commission and the European Patent Office. The three men have created a laser-scanning technology called Optomap which allows powerful but painless examination of the retina of the eye. Previously it had been difficult to scan the retina of small children because of the duration and discomfort associated with traditional eye tests. A child of one of the trio lost the sight in one eye because a detached retina was detected too late. That set him to work on the scanning problem and an engineering firm developed a non-invasive test that takes just a quarter of a second, using low-powered laser beams that produce a digital image of over 80% of the retina - compared with a scan of only 5% using conventional methods. This year's title of Inventor of the Year was based on inventions patented and successfully marketed between 1993 and 2002.
Source: rampantscotland.com

A View to Rare Sea Eagles
Visitors to the island of Mull off the west coast of Scotland will now have an even better opportunity to see the rare white-tailed sea eagles that have been nesting there since 1998. A new wildlife watching hide has been opened, the only location in the UK where these magnificent birds can be viewed from an organised hide. Overlooking Loch Frisa, it sits on wheels, making it easier to move into position each year, depending on where the sea eagles nest. It has a glass front for viewing and is equipped with two TV monitors showing live pictures of the birds from cameras placed close to the nest. Mull Eagle watch has seen the number of visitors increasing from just over 1,000 in 2000 to 5,500 in 2006.
Source: rampantscotland.com

Fuel Shortages, Credit Crunch, Binge Drinking
Some things never change... A complete archive of Scotland's Parliamentary activities recorded between the 13th and 18th centuries shows that major issues in those days included fuel shortages (Mary Queen of Scots banned the export of coal as a result), tolls over the river Forth (by ferry, rather than by a bridge), excessive drinking (those found in a bar after 10pm were to be subject to corporal punishment or imprisonment in a law passed in 1617) and Members of the Scottish Parliament faced scandals over expenses and falling standards. Researchers have spent the last eleven years turning 16.5 million words covering meetings, minutes and legislative acts discussed by the old Scottish parliaments, into an easily-accessible online archive. Some documents had to be translated from Latin, French and Old Scots to modern English. See Records of the Parliaments of Scotland.
Source: rampantscotland.com

Scottish Historical Calendar
May 18 1313 - Robert the Bruce invades Isle of Man.
May 19 1795 - Death in Auchinleck of James Boswell, biographer of Dr Johnston.
May 20 685 - Battle of Dunnichen (also known as Nechtansmere), south of Forfar in Angus, as a result of which the Picts stopped the advance northwards of the Angles of Northumbria.
May 21 1916 - Clocks and watches went forward for one hour as the Daylight Savings Act brought in "British Summer Time" for the first time.
May 22 1915 - Britain's worst train disaster at Quintinshill (near Gretna Green) in which three trains collided, with the loss of 227 lives. A troop train carrying the Seventh Royal Scots Regiment hit a stationary train and the night express from London then hit the wreckage. Two signalmen were later jailed.
May 24 1153 - King David I died at Carlisle and Malcolm IV crowned at Scone.
May 25 1713 - John Stuart, Earl of Bute, Britain's first Scottish Prime Minister, born.
May 26 1424 - The parliament convened by King James I approved the arrest of a number of the Scottish nobility - and also banned the playing of football.
May 27 1936 - Maiden voyage of liner Queen Mary.
May 28 1503 - Papal Bull signed by Pope Alexander VI confirming the marriage of King James IV and Margaret Tudor and the "Treaty of Everlasting Peace" between Scotland and England.
May 29 1630 - King Charles II born.
May 29 1660 - King Charles II returned to England. Royal Oak Day.
May 31 1727 - The Royal Bank of Scotland was formed from a company of debenture holders.

Bruce Festival
This year's Bruce Festival takes place in Dunfermline between June 6th and 15th. It includes "Warriors" a spectacular outdoor theatre performance by students of the local Carnegie College. Each performance will begin in the gardens of Abbot House to the sound of a harp playing. The audience will then move to the graveyard of Dunfermline Abbey, stopping briefly at the grave of William Wallace's mother - to hear about her son's contribution to the cause of freedom. Lepers will then pass the audience and gather in the opening of the Abbey where the narrator will give a brief history of the Abbey before going into the historic Nave of Dunfermline Abbey. Later, actors will be involved in combat sword fighting. At the weekend of 14/15th June, a number of Scotland's top re-enactment groups will take part in a spectacular pageant celebrating King Robert the Bruce. A medieval encampment will be set up in Pittencrieff Park and visitors will be able to view an authentic and colourful battle camp where soldiers will be preparing for war. There will be displays of the speed and power of the mighty longbow and crossbow and also falconry.
Source: rampantscotland.com

Spotlight: Wales

Rare Albino Tadpoles Uncovered
Conservationists have been observing a garden pond in Carmarthenshire after albino tadpoles were discovered there. The tadpoles have characteristic pink eyes and pale colouration and were first discovered when four separate blobs of albino spawn were spotted. The location of the pond has been kept secret while further research is undertaken. Conservation group Froglife said it was unlikely the tadpoles would turn into albino frogs. Source: BBC Wales

Panoramic Wales
Take in the sights through 360 degree panoramas of the region. Click here.

Welsh Maritime History
Wales' seas have been home to many adventures over the years. Ships have sailed far and wide from its ports for centuries, and others have ventured through its waters with tragic consequences. Read more.

Celtic Wales
Go back in time to the Iron Age when the Celts built forts and settlements all over this region. Visit the remains which form some of the most significant historic sites of the period. Click here.

For the Foodies...
Put your pinny on and try out some of these mouth-watering recipes in your own kitchen. Click here.

Dylan Thomas
Discover Dylan's links with South West Wales - from his home in Cwmdonkin, Swansea, to the more well-known boathouse that he and Caitlin shared at Laugharne, Carmarthenshire. Click here.

The Nature of Wales
Read about the Howardian Reserve, a wildlife oasis of woodland, wildflower meadow, ponds and reedbeds. Click here.