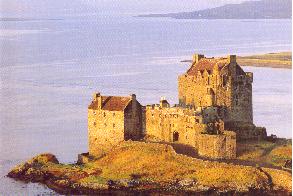 1. Borthwick Castle, Lothian - an apparition of Mary Queen of Scots, dressed as a page boy, is said to appear; she escaped from Bortwick Castle in 1567 in a similar disguise.
2. Braemar Castle - said to be haunted by a blonde haired, pretty girl, possibly a newly married bride who committed suicide because she thought her husband had abandoned her. (A sighting of her was reported in 1987). The spirit of John Farquharson of Inverey is also around - he is known as the "Black Colonel".
3. Castle Fraser - a young woman who was murdered in the castle in the 19th century and dragged down the stairs before being buried. Her blood on the stairs could not be removed.
4. Cawdor Castle, Invernesshire - the ghost of a lady in a blue velvet dress has been sighted and so has John Campbell, 1st Lord Cawdor.
5. Corgarff Castle - ghostly screams have been heard in the castle, but nobody has hazarded a guess at who, or what, is making them.
6. Craigievar Castle - the ghost here is of one of the Gordon family who was murdered by being pushed out of one of the windows of the castle.
7. Culzean Castle, Ayrshire - a ghostly piper is heard when a Kennedy is getting married (the castle used to be a Kennedy stronghold). Another ghost seen here include a young woman dressed in a ball gown.
8. Edinburgh Castle - needless to say many ghosts have been reported here, including a headless drummer (seen in 1960), a ghostly piper and one of the dogs buried in the pet's cemetery in the castle.
9. Eilean Donan Castle, Wester Ross - A Spanish soldier, killed in the castle or in a nearby battle is said to haunt the castle. And one of the bedrooms is haunted by a Lady Mary.
10. Kellie Castle - The spirit of Anne Erskine who fell from one of the upstairs windows is said to haunt a spiral staircase in the castle.
11. Skibo Castle - although the present castle was built as recently as the 19th century, it is on the site of much earlier buildings. A ghost of a young girl used to haunt old castle. Bones were later found in the castle walls and once they had been buried, the hauntings were never seen again.
12. Stirling Castle - Mary Queen of Scots appears here again - in the guise of the "Pink Lady". There is also a "Green Lady" who appears as an omen of bad news (green is an unlucky colour in Celtic mythology).
13. Glamis Catle - Haunted by a Grey Lady, said to be the ghost of Lady Janet Douglas; also a woman with no tongue; a young boy; and Earl Beardie.


http://www.rampantscotland.com/features/mythology.htm
Happy
Thursday 13
!