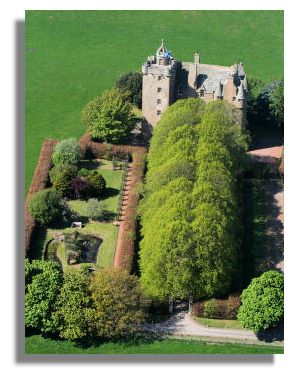 Selctions from this week's Rampant Scotland newsletter. Enjoy!

Hanging Chads - Not Just in the U.S.!
The total number of ballot papers which were spoiled or wrongly completed in the parliamentary and local council elections on 3 May has now been calculated at 142,000 - far higher number than originally estimated. That means that 7% of votes cast did not count towards the final results. The high volume has bescen blamed on the poor design and wording of the ballot papers. Last year, research had warned that the design of the ballot papers could cause confusion - but the advice appears to have been ignored.

Scottish Chef Awards
Jacqueline O'Donnell, Head Chef of The Sisters restaurants in Glasgow, scooped the City Chef of the Year Award 2007 at The Scottish Chef Awards this week. This is considered the culinary Oscar for Scolant. Having eaten in The Sisters restaurant more than once, it came as no surprise - see the review at Great Places to eat in Scotland.

Graffiti Artists to "Decorate" Historic Castle
Usually, owners of property try to discourage (if they can) the daubing of their walls with graffiti. But Lord and Lady Clyde, the owners of historic Kelburn Castle near Largs in North Ayrshire, are actually encouraging it. They have invited four of the world's top graffiti artists from Brazil to paint the external walls and turrets of the south side of the 13th century castle. They will have a free rein to paint what they want - the more colourful the better. The project is not quite as daft as it sounds though. The harling on the castle wall has recently been found to be damaging the original stonework of the castle. So it is to be removed to prevent further damage. Even so, the graffiti will stay in place for two-and-a-half years.

Whisky Festival - Where Do I Sign Up?
The annual whisky festival in the heart of Speyside has sometimes struggled to attract enough visitors to turn it into a success. But this year's event seems to have attracted thousands of people to Morayshire to enjoy their favourite tipple as well as other events such as ceilidhs with traditional Scottish music, distillery tours, walks, tastings and art. The Whisky Museum at Dufftown even managed to combine two of life's pleasures with a selection of specialist chocolates that had been matched to different whiskies.
Piping Hot
Tickets for this year's World Pipe Band Championships in August went on sale this week. The event is one of the most popular in Glasgow's entertainment calendar, with crowds of over 50,000 spectators in attendance to see 200 pipe bands and 8,000 competitors performing at the highest level.
Scottish Castles Photo Library
This week's feature is Castle Stuart in Inverness. (Pictured above.)

This Week In Scottish History
May 13 1568 - Mary, Queen of Scots, defeated at Battle of Langside.
May 13 1999 - Donald Dewar elected as First Minister of the new Scottish Parliament.
May 14 1754 - St Andrews Society of Golfers constituted. In 1834 it became the Royal and Ancient Golf Club.
May 14 1771 - Industrialist and social reformer Robert Owen born.
May 15 1567 - Mary, Queen of Scots, married Earl of Bothwell at 4am.
May 16 1568 - Mary Queen of Scots sailed from Port Mary across the Solway Firth to exile in England.
May 16 1763 - Biographer James Boswell met Samuel Johnson for the first time.
May 16 1791 - James Boswell's "Life of Johnson" published.
May 16 1990 - British Steel announced the closure of the hot strip mill at Ravenscraig with the loss of 770 jobs.
May 17 1532 - King James V established paid judges to sit as the Court of Session, the highest civil court in Scotland.
May 17 1938 - The Marquess of Bute sold half of the city of Cardiff for £20 million, at that time the biggest-ever British property deal.
May 18 1313 - Robert the Bruce invades Isle of Man.
May 18 1843 - Break up of Church of Scotland and formation of Free Church of Scotland.
May 18 1960 - Real Madrid beat Eintracht-Frankfurt 7-3 at Hampden Park, Glasgow, to win the European Cup for the 5th year in succession.
May 19 1795 - Death in Auchinleck of James Boswell, biographer of Dr Johnston.
Scottish Proverb
Never marry for money. You can borrow it cheaper.